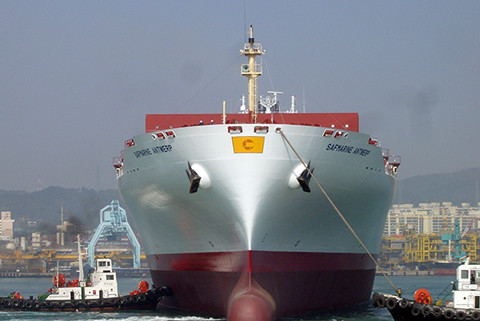 Costamare Inc. is a leading international owner of containerships. Through its subsidiaries Costamare Inc. ("Costamare") owns a fleet of 71 containerships in the water aggregating approximately 524,000 TEU. Four of our containerships, have been acquired pursuant to the Framework Deed with York Capital Management by vessel-owning companies in which we hold 49% equity interest.

Costamare serves liner companies that demand a high standard of safety and reliability and are, in most cases, among the world's largest liner companies. Costamare and its predecessors draw on a history of more than 49 years in transportation of goods by sea, with more than 30 years of these in container transportation.

Costamare's strategy is to time charter the containership fleet to a geographically diverse, financially strong and loyal group of leading liner companies. In fact, most major international liner companies are customers of Costamare Inc. Among Costamare's Inc.'s customers of recent years have been Maersk, MSC, Evergreen, Yang Ming, Cosco, Hapag-Lloyd and ZIM.

The Costamare containership fleet can meet a variety of customer needs. The high-quality containerships of various sizes (including feeder, panamax and post-panamax containerships) serve short, medium and long-haul routes on a variety of geographical trades.
The Costamare containership fleet has an excellent reputation for smooth, interruption-free service, approaching utilisation levels of 100% (excluding scheduled maintenance).
Costamare recently owns 43 secondhand dry bulk vessels, with a total capacity of approximately 2,369,000 DWT (including one vessel that we have agreed to sell). Our dry bulk vessels range in size from 32,000 to 84,000 DWT.
The dry bulk vessels transport a broad range of major bulks such as iron ore, coal and grains as well as minor bulks such as bauxite, phosphate fertilizers and steel products. Through our diversified, well-maintained fleet and experienced ship management team, we can serve our customer's needs worldwide and ensure the safety, reliability and environmental responsibility of our services.
While providing a high level of service to its customers, Costamare also manages its business with the utmost concern for the safety of its people and the environment.
The Company also has a dry bulk operating platform which charters in/out dry bulk vessels, enters into contracts of affreightment and utilizes forward freight agreements and other derivative instruments as hedging solutions and to take a position on the market.